ClutterFree II Under Counter Hot, Cold, Ambient Drinking Water Dispenser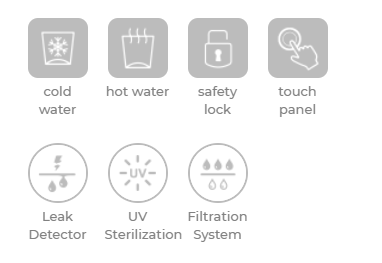 Stainless steel: SUS304
Touch operation panel with blue LED light
LED light flash and beep as warning once the machine works abnormally
Comes with high quality Swan Neck Faucet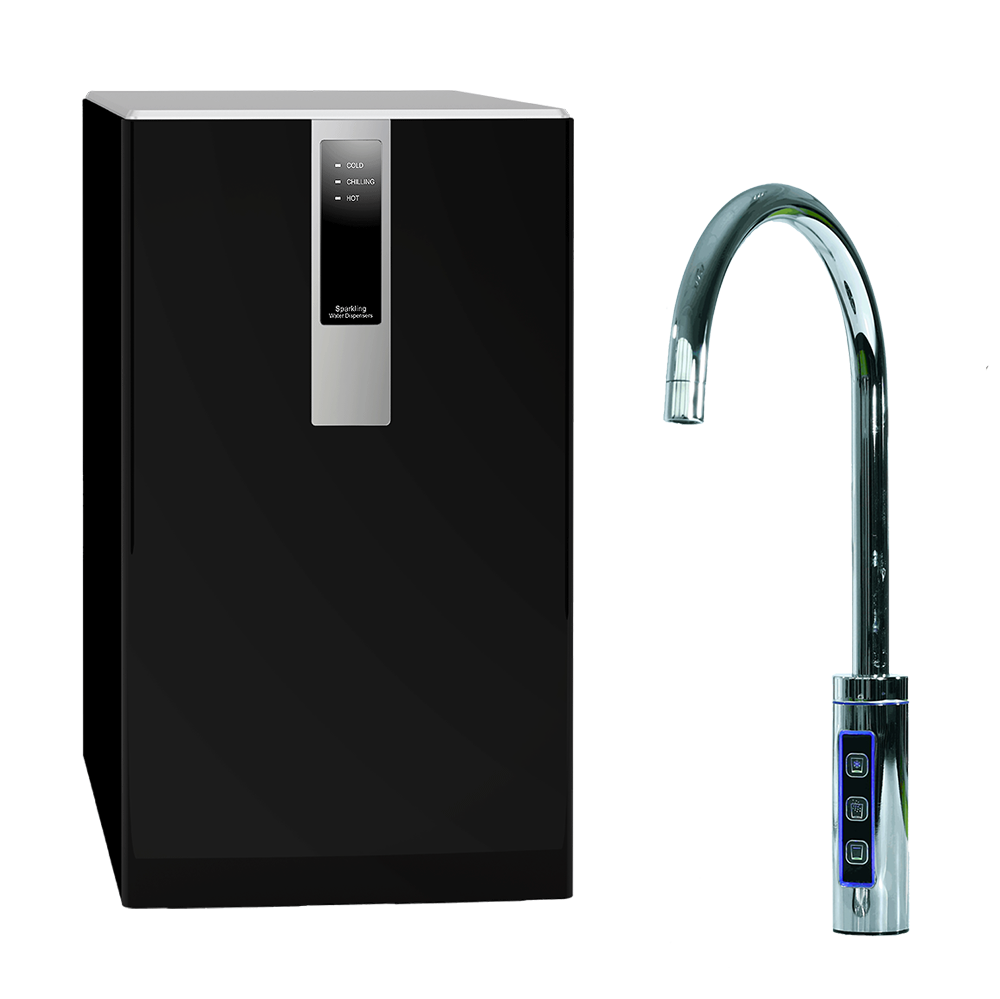 Swan Neck Faucet
-Stainless steel: SUS304
-Touch operation panel with blue LED light
-LED light flash and beep as warning once the machine works abnormally
- Comes with high quality Swan Neck Faucet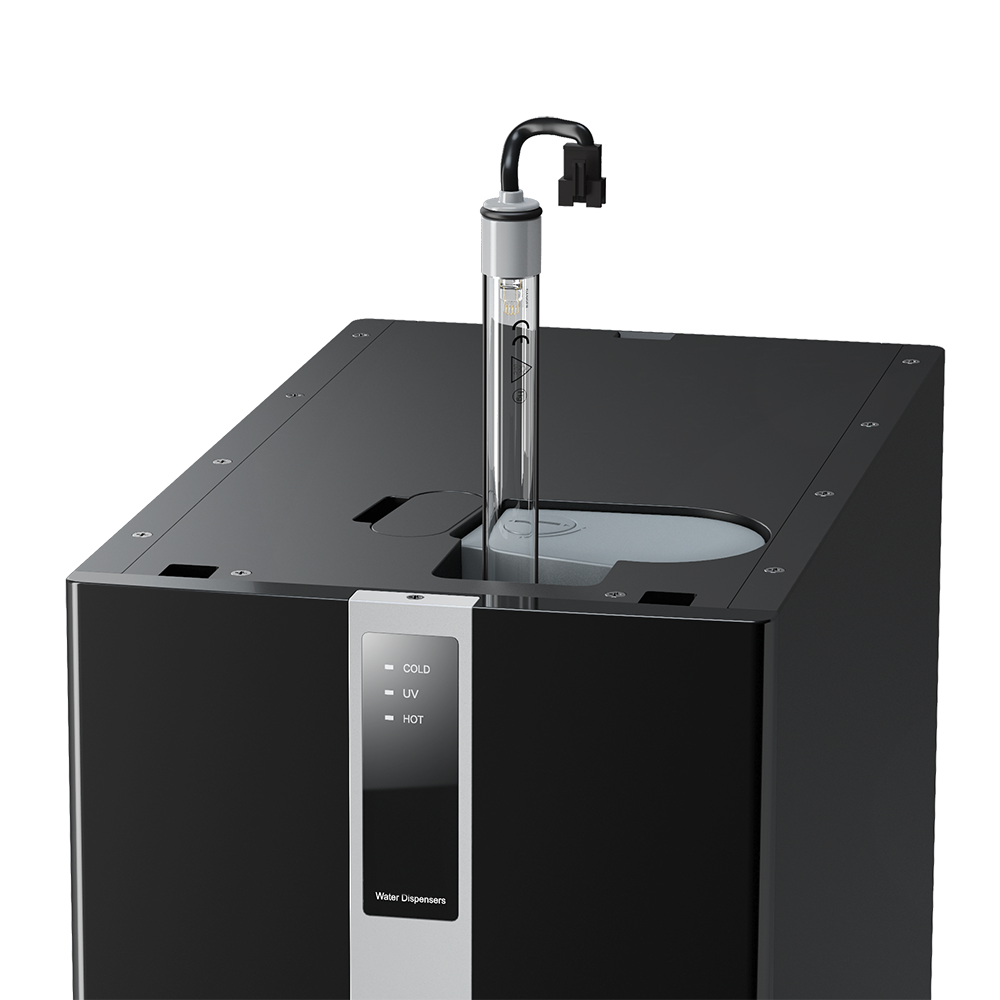 Instant-start High Efficiency UV Sterilization System
Instant-start UV system controlls light irradiation; UV sterilization works when users dispense water. Replaceable high efficieny UV lamp eliminates 99.9% of germs without increasing cold and sparkling water temperature.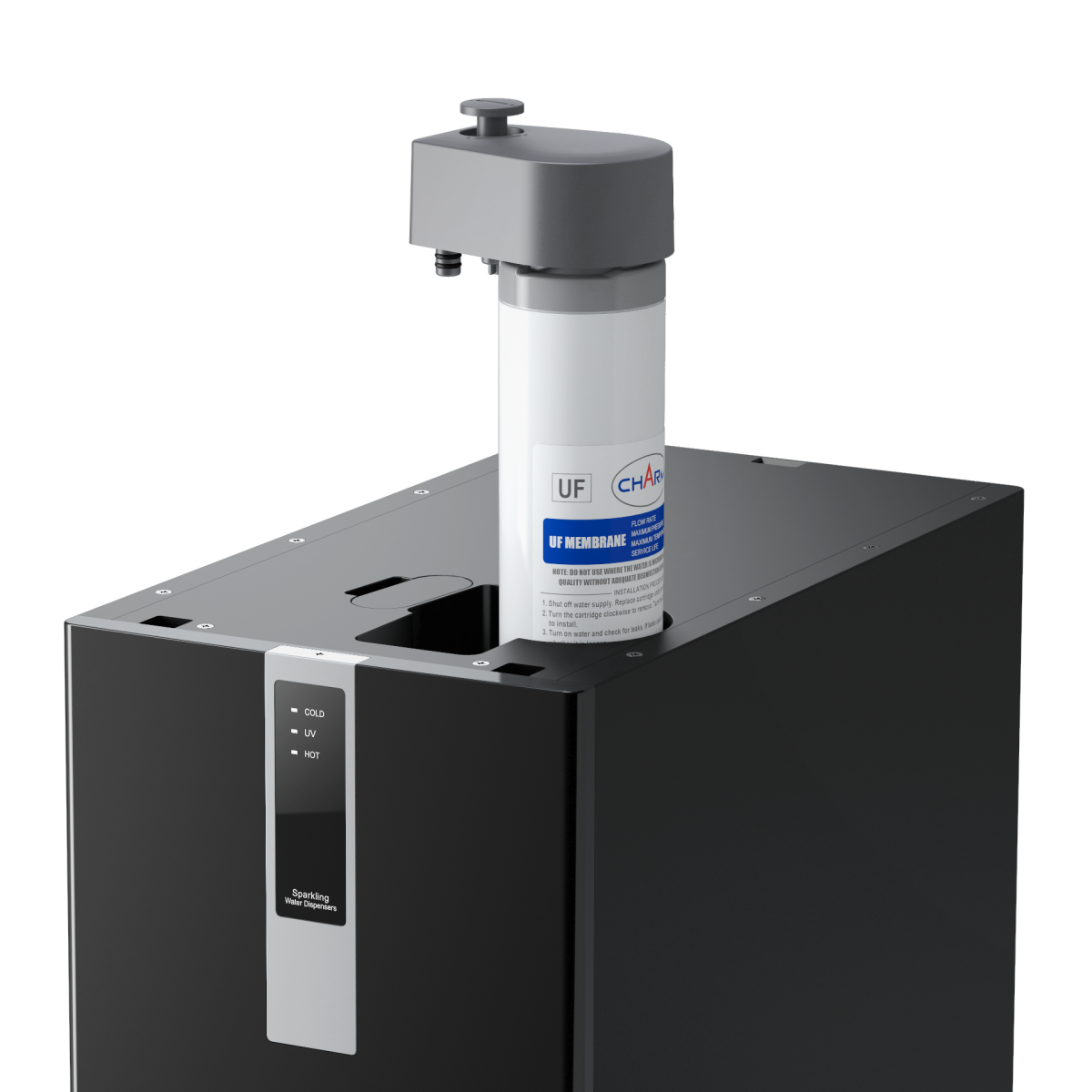 A Tool-free Replaceable Filter
Replaceable UF filter; single filtration filter installed inside of the model, and comes with the screw lock. Filter replacement is very simple and easy.
Specifications:
Dispenses Hot, Chilled and Ambient water
Direct chill system
Comes with Swan Neck / L-shaped Faucet with touch panel with blue LED light 
Top up may be required for other filtration
LED light flash & beep indicator
Leak Detector
Dimension: 23(W) x 43.5(D) x 39.5(H) cm dimension excludes external filters
Tank Capacity: Cold tank: 3L | Hot tank: 1L
Chilling capacity up to 20L per hour at 2-10 degree C, 100W
Heating capacity up to 12L/h, 500W, 80-90℃
1 year machine warranty (excluding faucet) (does not come with drip tray and door vent)
Includes free basic installation
Made in Taiwan
Requirements:
1. There must be a power socket within 1m in the cabinet
2. Customer needs to get vent installed at door or side of under sink cabinet.
3. We do not drill no marble, granite or quartz, if customer has such material that needs to be drilled to install faucet, please get contractor to drill 24mm diameter.
4. Drip tray not included. We do not do drip tray installation. If customer requires drip tray to be installed, please engage your own carpenter.
FREE STANDARD DELIVERY (IF NO INSTALLATION IS REQUIRED)
Free Delivery for purchase to 1 local address if installation is not required. Delivery can be expected within 1 to 3 days.
BASIC INSTALLATION
Delivery & Installation can be expected within 2 - 4 work days. Our customer service will contact you to arrange.
Standard installation does not cover laying of stainless steel piping, concrete & quartz (available at a charge) drilling, marble & granite drilling.
Water point or source is preferred to be a couple of meters within location of dispenser.
Power point is preferred to be available with a meter of water dispenser.
STANDARD INSTALLATION (FOR WATER COOLERS with DRAINAGE REQUIREMENT)
Standard installation is usually applicable for water coolers which require drainage and so covers PVC outlet to drainage and piping into water cooler (within 3m). Installation of external filters is covered (if any).