170S-MP Pour-in Hot & Cold Water Dispenser Counter
170S-MP Pour-in Hot & Cold Water Dispenser Counter
PRODUCT INFORMATION
Model number: W2-170S MP
Description: Hot & Cold water dispenser
Material of body: ABS and EGI Steel
Dimension: 310×300×530(h)mm
Weight: 20kgs
Cold tank capacity: 3 liters
Hot tank capacity: 1.5 liters
Material of tanks: Stainless steel
Compressor: DAWOO or LG (optional)
Temperature of Cold water: 4~7℃
Temperature of Hot water: 80~90℃
Temperature control: By two sensors(bimetal)
The brand: "HI SEOUL"
The manufacturer and Origin: HYUNDAI WACORTEC, Korea
...
SPECIFICATION - MINERAL POT
Cleaner & better tasting water, Easy to replace filter, Big capacity, Superior filtration system, Clear pot to monitor water level
Filtration: 5 Stages
Size: 400mm(H)x270mm(W)x270mm(L)
Life Recommended of Cartridges: 3,000 Litres
Total Capacity: 16 Liters
Replace after 3 to 6 months
HOW DOES IT WORK?
Refill the funnel with water directly from the tap
Hydrophilic membrane filtration removes sediment, suspended solids, heavy metal, chlorine, odour and bacteria
Mineralization: Balance of Zinc, magnesium, calcium, potassium and other minerals for healthy alkaline mineral water.
Activation: adjust PH level, soften water by removal of hardness lons of more than 70% improves taste and appearance of water.
The result is water ideally suited for preparing food and drinks
WARRANTY
ONE year standard warranty (exclusive of dispenser spigots/ taps)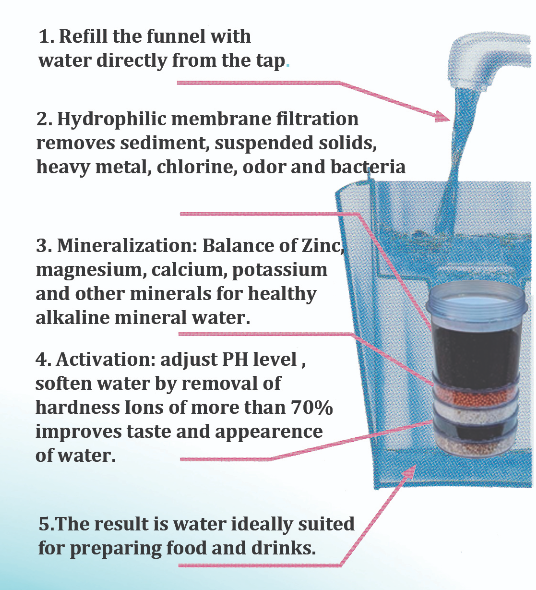 FREE STANDARD DELIVERY (IF NO INSTALLATION IS REQUIRED)
Free Delivery for purchase to 1 local address if installation is not required. Delivery can be expected within 1 to 3 days.
BASIC INSTALLATION
Delivery & Installation can be expected within 2 - 4 work days. Our customer service will contact you to arrange.
Standard installation does not cover laying of stainless steel piping, concrete & quartz (available at a charge) drilling, marble & granite drilling.
Water point or source is preferred to be a couple of meters within location of dispenser.
Power point is preferred to be available with a meter of water dispenser.
STANDARD INSTALLATION (FOR WATER COOLERS with DRAINAGE REQUIREMENT)
Standard installation is usually applicable for water coolers which require drainage and so covers PVC outlet to drainage and piping into water cooler (within 3m). Installation of external filters is covered (if any).